" Scintillating soprano Anastasiya Roytman successfully communicated with superb control of dynamics and phrasing. The songs offer many opportunities for changes of color, also exploited by Ms. Roytman; she seemed totally present with the text and able to communicate the depth of feeling to the audience. We admired the buildup of intensity in Träume where Wagner's phrases ascended the scale.
Gustav Mahler's Rückert-Lieder offer the same opportunities for a variety of moods and colors and delight us no end. Here, they were given an almost operatic treatment with each song seeming like an aria with all emotional bases covered. Ms. Roytman effectively negotiated the large skips in Blicke mir nicht in die Lieder. But our personal favorite was the powerful Um Mitternacht which was given a suitably powerful delivery.
The big surprise of the evening were songs by contemporary composers that were neither "academic" nor derivative. We are always thrilled when our preconceived notions are overcome. Alexey Shor, present in the audience, wrote the music and lyrics for Coming of Age Trio and Ode of Persistence Trio. This world premiere included the stylish clarinet playing of Julian Milkis and gave Ms. Roytman the opportunity to show a different aspect of her artistry.
The second big surprise comprised some jazzy songs by Stefania de Kenessy, whose music was so fine that we immediately arranged to see her new opera next weekend--Bonfire of the Vanities at Museo del Barrio...
We would like to commend Ms. Roytman for one more thing. She never used a score! Mostly, when we hear contemporary music, the stuff is so obscure that the singer is on the book. Not so here! This allowed her to communicate directly with the audience and to express the joy of this original music. "
~ Voci de Meche
" It would have been nice to have had the English texts along with the translations of the German ones, but even without them,the seductiveness was apparent and amusing ... The trio indulged themselves rapturously and scattingly in an encore of Gershwin's Summertime. Roytman's vocal range is prodigious.."
~ Soundworldsight Magazine
"…her commitment to the role transported one back to opera performances of the past when artists offered the listener a glimpse into their souls with each note and each gesture"
~ Broadway World
" ..soprano Anastasiya Roytman who was ardent and expressive...Ms. Roytman created a sympathetic portrait of the doomed heroine...It is a glorious thing to hear a singer use different aspects of herself to limn different characters."
~ Voce di meche
" Her voice was big, open and beautifully handled. Lovely pianissimi and firm and powerful top… Ms. Roytman completely inhabited the character. She was Amelia and no one else. There is no question that she is a true Verdi soprano.." ~ Opera Magazine
" The Baroness turned out to be the main female role of the opera. Anastasiya Roytman fully embodied the character of femme fatale … with her solid high notes and her intelligent acting "
~ Opera News
" She has a commanding stage presence and a rather large voice that is surprisingly flexible for its size. …I see the qualities of a real spinto, something that is always exciting to see"
~ Oberösterreichische Nachrichten
" Ms Roytman managed to show full spectrum of her character in great depth for this performance's innovative staging.. From frantic rage to child-like helplessness, her acting at was at all times so genuine that you forgot that she was actually singing."
~ Kultura
" The baroness was played by the charming Anastasiya Roytman, whose voice was lovely and fresh. The characters are engulfed in the masquerade's whirlwind, and their intonations are likewise caught in the storm of the dance's rhythm and complicated choreography; where she proved to be a natural."
~ Strastnoy Bulvar
AM Live TV Interview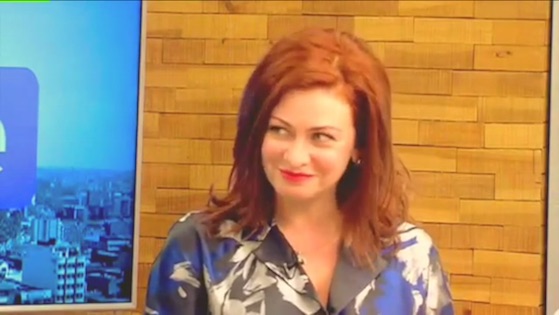 Click here to watch the video
Interview with the Unite4Good Radio
NV: In this age of high technology, is opera becoming less relevant as an art form?
I think that modern technology is both a blessing and a curse. On one hand, it has become extremely easy to access any recording of any performance - all you have to do is to press a button. But the easier the access, the less effort we want to make, and thus become intellectually lazy. Opera is a form of art which requires a certain level of dedication on the part of the listener.
NV: What is your dream part?
There are so many!! I like more complex, less one dimentional characters that challenge me as an artist ... The more drama the better (laughs) I definitely have a soft spot for Strauss heriones. "Salome" is one of them…
To hear the rest click here